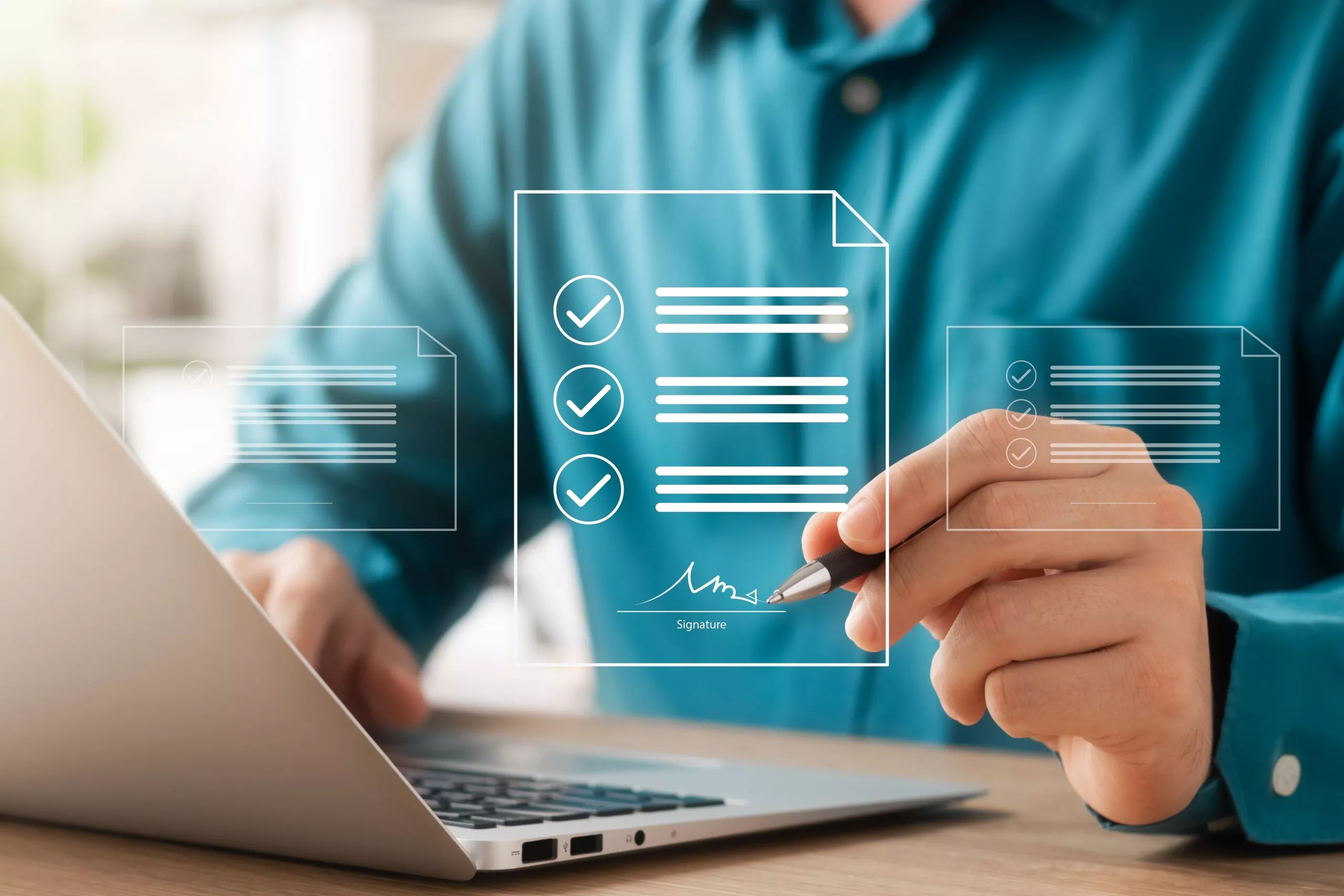 09 Feb 2023
How to sign documents without registering in the EDMS: convenient interaction within the company and with contractors
Signing documents is one of those tasks that requires maximum accuracy and takes a lot of time when done manually. It means that this process, as well as data exchange and communication, is crucially important to digitize. You can achieve this goal by implementing a modern document automation system, such as Schrift, in your business. It will help to establish interactions not only within the company but also outside it. What are the key features of this function at both levels? 
EDMS:
a convenient and secure space to sign documents 
The first thing that comes to mind when one thinks of electronic document management is intra-corporate data exchange, i.e., between employees and heads of departments and divisions. It is essential because the accuracy of decision-making depends on the speed of information receipt. Signing documents is one of the main stages of this business process. 
An electronic document management system is designed to meet such internal needs. Next, let's look at how it works at the level of a single company. 
Let's say a team member/manager creates a document based on a template and then:
Plans the route for approvals and signatures depending on the goals.

Collects approvals and signatures in one of the following ways:
sends manually for signatures (including additional ones) to certain persons;

sends automatically via a parallel-serial route.
Receives a document signed by Schrift or a digital signature.

Register automatically by a responsible person or other position. 

Sends within the company (publicly, privately) or to external counterparties – for information, consideration, or execution.
As a result, thanks to business process automation tools, EDM takes minutes. There is no need to create documents from scratch; just select the desired template. The automatic mode of registration, sending for signature, and subsequent distribution significantly increases the entire team's productivity. 
Moreover, processes can be optimized at the level of interaction with other companies.
The document management system is also useful for establishing relationships with other legal entities, such as your company's suppliers or contractors. A unique feature is that contractors do not need to register to conclude and sign documents in the EDMS. What is the secret?
Schrift has a special mode designed specifically for unregistered clients. The contact person of the counterparty receives your notification letter by email and, by clicking on the link, gets to the guest space. From here, they can download the document to the device, meaning both parties will have the original.
To access the standard interface and expand collaboration possibilities, the user must create an account for their company. However, even in this case, they can choose the mode of guest communication with you; it all depends on their individual goals.
Thus, regardless of whether your counterparty is a full-fledged user of the electronic document management system, you can: you can:
Exchange information with the contact person and record agreements. 

Provide access only to data that is relevant to the company.

Specify a contact person to sign when creating or working on a document.

Choose a signature method: the one set by the Schrift system or only a digital signature. 

Work together on a paper, e.g., to agree on the terms of a contract.

As a result, you get a document with a scheduled signature in the shortest possible time.
You can also see at what stage of the life cycle the document is (pending signature, registered, etc.) on both sides. You can control the process and make appropriate business decisions promptly. 
You'll agree that this approach makes business communications easier and more transparent. Everything happens 100% remotely, meaning there is no need to hold business meetings every time you need to approve and sign new documents. 
Please note that the validity of the received signature can be checked at any time. Both built-in system tools and third-party services are suitable for this purpose. 
How are other
EDMS features
helpful in working with documents?
The system has a wide range of functionality that allows for native document management. It means that you can not only exchange and sign documents but also:
prepare draft documents and create relevant files;

view data without downloading files and keep a version history;

search for information in the system, including using filters;

organize data and store it in a secure database;

transfer tools and access to data to other employees.
All actions related to working with documents and data are recorded in the system. You can track the activity of employees and third-party users and control the correctness and timeliness of processes: filling out, correcting, signing, etc.
An electronic document management system is vital if you want to optimize your daily business processes and establish external communications. Create an ergonomic and secure space for your team, managers, and contractors to work together, even if they are not registered.